IT Services For Southeast Businesses:
Feeling Like You've Outgrown Your Current IT Service Provider?
No other IT consulting firm in the Southeast can touch our fast response time, range of experience, quality customer service, or our ability to deliver technology solutions that work exactly the way you want them to.
TOP IT SERVICES PROVIDER FOR BUSINESSES NEEDING
Managed IT Services
We'll manage all of your IT services for a flat-rate fee.
Help Desk
We offer assistance with network and computer issues.
Cloud Computing
Our solutions are fully scalable and available for a flat-rate fee.

Data Backup and Recovery
Prevent the unexpected from ruining your company.
The Plug Group: trusted computer support for businesses throughout the Southeast – Let us help you today!
Maybe you're concerned with the current rising costs of your IT services, or maybe you are just running short on time because of your expanding business and need to hand over the reins of some services to someone else. Whatever your reason, we can help you with quality IT services today.
Your business can save money and time today with The Plug Group's managed services, network solutions, IT support and more.
Our custom service packages deliver what you need and want without overstepping the boundaries of your budget. From cloud services to data backup, we're here to team up with you and your company for expert support.
So, if your company is in the Southeast, The Plug Group can help you today.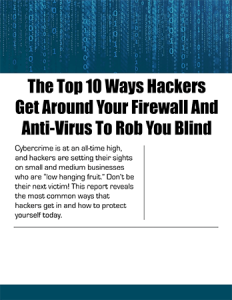 This report reveals the most common ways that hackers get in and how to protect yourself today.